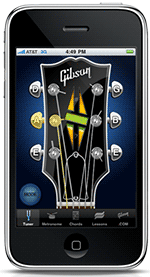 Gibson have just announced the release of a new guitar app for the iPhone and iPod Touch. The Gibson App is packed with great tools for guitarists including:
a metronome (allows tempo setting by choosing a specific beat per minute or even by simply tapping the screen three times at the desired tempo)
a chromatic tuner (the iPhone version of the tuner can detect the notes played on your guitar whereas the iPod Touch simple guitar tuner version plays the notes specified allowing you to tune to match (because the iPod Touch lacks a mic)
Guitar chord charts (over 30 chord charts with marked finger positions) for reference
Video content with lessons – to teach new guitar riffs, guitar licks and chord arrangements (to be updated regularly)
Headlines from Gibson.com about artists, new products, contests & special events, articles, news stories and factual information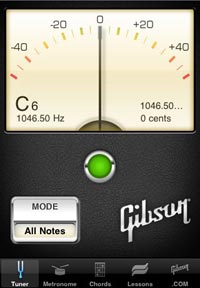 Now, I don't have an iPhone, but if I did I'd be straight on to the iPhone App store to get my copy today. Did I mention that the Gibson App is FREE???
Head over to the iPhone App Store now or find out more at Gibson.com