Blues: Lead Guitar Blues(12 bar), Blues Pentatonic Scale, Blues Guitar Chord Progressions (I-IV-V)
Image via Wikipedia
So you're thinking of learning to be a blues guitarist? Blues guitar is one of the most rewarding of the guitar styles to learn. Without the blues, there would be no rock. The origin of the blues is reputed to be as far back as the end of the American Civil War, presumably with the abolition of slavery around the end of 1865 possibly in the Mississippi Delta region hence the "Delta Blues". Blues became popular after the turn of the 20th century and from then on, many influential blues guitarists (such as Robert Johnson) made their name and stamped their mark on the evolution of the guitar and indeed, the way it is played. This has spawned techniques such as slide guitar (where a beer bottleneck (historically) is worn on a finger of the fretting hand and used to fret the strings giving an unmistakable sound (these days guitar slides can be perspex, metal and glass)) and styles of playing blues (12 bar, 16 bar and the less common 8 bar blues).
So if you want to learn blues (12 bar, 16 bar and 8 bar blues refers, as the name suggests, to the number of bars of music) for guitar, you're spoiled for choice. There are a huge number of blues guitar books, DVDs and online blues guitar lessons available. My aim is to provide some introductory blues guitar scales, blues chord progression and incorporate these into guitar warm up exercises at a later dat. Keep checking back.
Beginners should concentrate on blues guitar basics including blues guitar scales, 12 bar blues and blues timing. There is an excellent book and CD available from Lick Library, called The Ultimate Beginner Series Blues Guitar Basics that will serve as a great introduction to blues guitar. There are also a ton of books available from Amazon.co.uk:
Online Blues Guitar Training
One online blues guitar course is called Playing Through the Blues – A Guide for the Lead Guitar Player (opens in a new window) and is well worth a look.
"Discover The Secrets of Your Favorite
Blues Guitar Players. This Proven System
Is Guaranteed to Have You Playing
Killer Blues Guitar Solos!"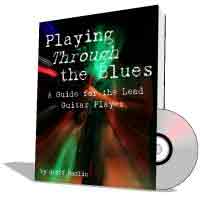 This course is incredibly easy to follow with all of the video examples (over 120 minutes-worth) and blues jamtracks you will need to work through this incredible eBook. The course is aimed at intermediate guitarists who would like to hone their lead guitar playing skills in the blues guitar style. Remember, saying that rock guitar has a toe in the blues is an understatement (more like an entire leg). If you want to be able to play solos all over the fretboard, then this blues course should be part of your instruction. As should listening to the likes of modern day legends such as Eric Clapton, Slash, SRV, Jimi Hendrix and Gary Moore. Seasick Steve is another wonderful modern day blues character.