Beginners Guitar-Free online lessons (Guitar Beginners Lessons)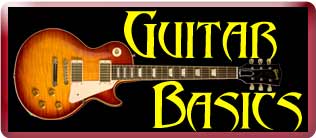 This section is a beginners guide to guitar (intro) and contains guitar beginners lessons and articles on the guitar basics including buying your first guitar, tuning your guitar, guitar warm ups and cool downs, hand positions, essential guitar chords and an introduction to guitar tablature – in other words introductory lessons for the guitar(free online lessons – acoustic lessons and electric lessons – but most lessons apply to both types of guitar).  By following the links below, and understanding each section, you will have all you need to begin playing songs on your guitar.  Your guitar career begins here.
Follow the links below to Guitar Savvy articles designed to provide you with all you need to pick up a guitar, tune it and play a few chords.  These beginners guitar lessons are all absolutely free. Elsewhere throughout this site, reference will be made to the guitar intro articles described here.  I will also add a guitar glossary sometime soon for your reference.
The following sections are coming soon:
Strumming
Guitar Barre Chords
Guitar Scales
Legato
So if you want to start guitar then try to get familiar with the guitar basics covered in this section.  These guitar beginners lessons will serve as a guitar primer for whatever guitar learning method you decide on to take your guitar playing to the next level. These Guitar(free) online lessons take time to put together so please bear with us. We'll produce more free lessons over time as well as to update and expand the existing lessons. If you've mastered these lessons, then why not take your guitar playing to the next level with additional guitar lessons and learning methods?