The following warm up and cool down exercises for guitarists will ensure that your guitar playing is smooth, relaxed and injury-free and they consist of physical (muscular) warm up exercises and playing (finger/fretting exercises).  Please note that you do these exercises at your own risk.  We cannot be held responsible for any injuries you may sustain whilst doing these exercises.  All exercises should be carried out slowly and smoothly.  If you feel pain or discomfort, you should stop immediately.  Seek medical advice if you have any concerns.
Large Muscle Stretches
Playing guitar requires a bit of loosening up of the large muscle groups.  You should begin by gently stretching the large muscles of your side, arms and back: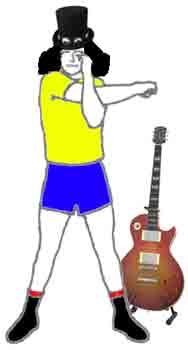 Exercise 1: Shoulder stretch: keeping your right arm straight and at shoulder height slowly bring your right arm across your body, under your chin and use your left arm to pull it gently towards you until you feel a slight tightening of the muscles on your right side.  Hold for 5 seconds and release, taking care not to overstretch or to bounce the movement.  Repeat with the other arm.  Do 3-5 repetitions.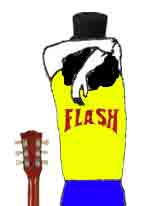 Exercise 2: Tricep Stretch: Lift your right arm up above your head beside your ear.  Bend your arm so that the forearm is behind your head.  Use your left hand to gently pull the arm at the elbow backwards so you can feel a gentle stretch on the back of your right arm and down your right flank.  Hold for 5 seconds and release, taking care not to overstretch or to bounce the movement.  Repeat with the other arm.  Do 3-5 repetitions.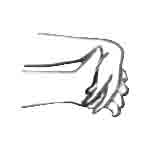 Exercise 3:  Wrist stretch: with your right arm in front of you, keep your hand flat, fingers together.  Use the left land to gently bend the right hand forward so that the hand is almost at right angles to the arm.  Hold for a few seconds taking care not to overstretch.  Repeat with the left wrist.  Remember, if you experience pain, stop immediately.
Finger Stretches (finger and forearm warm ups)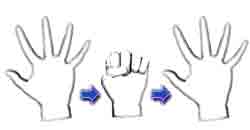 Stage 1: Finger flexes: holding your hands out in front of you spread your fingers (both hands) far apart then smoothly and slowly make a firm fist with each hand.  Open and flex your fingers again.  Repeat 10 times.  This will help to warm up the fingers themselves as well as the muscles of the forearm.
Stage 2: Playing Exercises:  the following requires a basic understanding of guitar tablature and you should head over to our tab introduction section if you don't yet understand tab.
First off, for these exercises we'll be following the one finger one fret rule: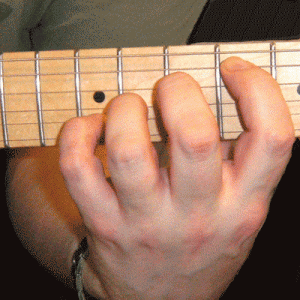 This guitar fretting rule is self-explanatory and is useful because it brings your 4th finger (your little finger or pinky) into your playing early.  This is your weakest finger and is the one that will need most pratice to strengthen as you learn to play guitar.  I strongly recommend that you persevere with this though as gaining strength and independence in your 4th finger is a major advantage to you – you will be able to work on any piece of music you want.
So with this in mind, try playing the following pieces.  They require you to play 4 frets on each string, one per finger – try playing each note evenly and cleanly placing your fingertips close to the fret wire to avoid fret-buzz.  If you have a metronome, you should use it with this exercise to ensure that your timing improves along with your guitar playing.  Try setting it to play slowly at first, say 60 beats per minute (bpm) which is the same as playing one note per second and build up your speed as you become more comfortable with it.  If you don't have a metronome, you should consider buying one or find one online – as they are an essential training tool to improve your guitar playing.

More to come soon.