STOP THE PRESS: Save up to a remarkable 61% off the shelf price of music magazines here.
The first thing to note about guitar magazines is that they are a great resource for learning to play many different styles of guitar.  One major advantage of learning to play guitar from lessons in a guitar magazine is the cost.  For around 6 pounds a month (the shelf price… you'll save considerably more if you take out a subscription) you get access to loads of great lessons (backed up by video lessons and/or backing tracks on a CD or DVD that is included with every issue).
There are many guitar magazines out there.  A quick scan of your local newsagent shelf and you'll be scratching your head wondering which guitar magazine would suit you best.  So we want to break it down for you.  Most guitar magazines have a slightly different focus from one another and you should choose carefully depending on what style of guitar you want to learn to play.  You should ask yourself what you want to from a guitar magazine.  Chances are you want to be able to learn some songs to play on guitar.  What kind of songs do you want to play?  Rock guitar? Blues guitar? Heavy metal/shred guitar? Classical guitar?  Maybe you want to find out about guitar gear and are looking for news and reviews about the best type of acoustic guitar on the market to suit your budget… perhaps you want to know what your favourite bands are up to and what kind of guitar equipment they use to achieve their unique sound.
Nearly all guitar magazines provide accurate transcripts in TAB format of popular songs to learn as well as video and audio lessons that work in conjunction with the TAB transcripts laid out in the magazine itself.  Specialised magazines like those described below are an excellent way to learn the guitar and the bredth and range of lessons available is amazing.  Note that this article focuses on UK-based guitar magazines for now, but these guitar magazines are available to overseas subscribers as well.  US guitar magazine imports such as Guitar World, Guitar Player and Acoustic Guitar (distributed in the UK by COMAG) are also available in good newsagents.  Three of the top UK guitar magazines for those wanting to learn to play guitar or improve their current guitar skill level are:
---
Guitar Techniques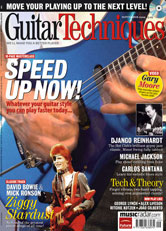 For example,
Guitar Techniques Magazine
(available via the My Favourite Magazines subsidiary of Future Publishing) is aimed at providing instructional lessons and techniques centred around learning a wide range of different guitar styles in both acoustic and electric guitar.  Some of the foremost guitar teachers in the UK are involved in providing guitar lessons,  and each has a clearly labeled difficulty level – lessons are aimed across the whole spectrum of guitar skill levels.  The nice people at GT magazine have an "Abba to Zappa policy so there is always something to suit everyone."
---
Total Guitar
For the aspiring rock and metal guitarist, 
Total Guitar Magazine
also provides  a wide range of instuctional guitar lessons as well as excellent interviews with top guitarists, bands and guitar gear as well as album reviews.  Note that this excellent magazine is part of the same family as
Guitar Techniques Magazine
 but is more focused on rock and metal electric guitar – having said that the lessons are excellent and will benefit all aspiring guitarists.  TG also has an plenty for the novice guitarist to learn.
---
Guitarist
Another magazine, also part of the Future Publishing family, is
Guitarist
. This excellent guitar mag has been published for about 25 years!  This has a more broad guitar focus than
Total Guitar Magazine
 placing more emphasis on interviews and lessons aimed at the electric guitarist, the acoustic guitarist and the bass guitarist.
---
Note that subscriptions to these magazines will allow you to make huge savings off the shelf price and these magazines are an excellent guitar resource – as a developing guitarist, you can refer back to your older copies as your skill levels improve, to attempt the lessons or learn the guitar transcripts that were previously too challenging. If you build up a collection of these magazines as a newbie guitarist, you'll have a huge stockpile of lessons to  refer back to.  For that reason alone it is worthwhile considering buying a subscription rather than buying individual copies.   Oh, and subscriptions to these guitar magazines make great gifts if you're buying for someone else.
You have the option of print subscription, digital subscription or digital + print subscriptions.
Other magazines in this range that may be of interest:
To see more magazine subscriptions, visit the Save up to a remarkable 40% off the shelf price of music magazines here.