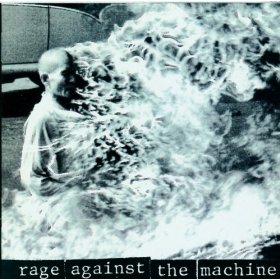 Hi everyone… I've thrown my support, for what it's worth, behind the campaign to have Rage Against the Machine's classic track 'Killing in the Name' hit the UK number 1 slot this Christmas.  You can buy the track for under a quid using the links below (or if you have iTunes, you know what to do).  I find the prospect of another sugar-coated crappy Christmas number 1 from the International Bank of Cowell a depressing prospect.  The lad who won seems like a nice enough kid but he's a puppet (he was told by the presenters on GMTV yesterday that he was heading to the USA to try to break into the music scene there – the poor lad didn't have a clue about this – let's hope he doesn't have a criminal record, but I'm sure the X-Factor legal goons have already checked that out before they let him win (allegedly)).  The situation isn't helped by the "news" that 19million poor, misguided souls tuned in for the X-Factor final, a sizable proportion of whom will have already pre-ordered the single.
I don't know about you but I've had it with the whole X-Factor thing ruining the battle for the Christmas number 1 slot. Not that the pre X-Factor Christmas number 1 singles were anything to get that excited about (e.g. Bob the Builder, East 17, Mr Blobby (shudder)) but it was always a bit of a thrill when Sir Cliffy of Richardom was kept off the top spot.  Now it's a foregone conclusion that the X-Factor Puppet will top the charts.  Yawn. 
It doesn't have to be this way.  So if you would like to see Rage Against the Machine hit the top spot ahead of the Cowell-Child, then you can follow the links below to buy a copy of 'Killing in the Name':
Send a message to Cowell and cronies: "F**k you, I won't do what you tell me" (repeat many times).
If you have a Facebook account, then you can also join the Facebook RATM Campaign group here.  Note this group keeps "disappearing" from Facebook for some reason or another so keep trying.