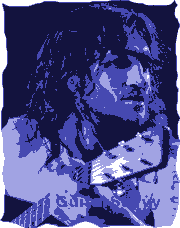 Just read on MusicRadar that one of my all time favourite guitarists (and fellow strat-cat) John Frusciante has allegedly left the Red Hot Chili Peppers. This is the second time Frusciante has quit RHCP (the first time Frusciante quit was waaaay back in 1992 after the release of the Blood Sugar Sex Magik).   
A source close to the band is quoted:
"Josh Klinghoffer has been playing with the group for a couple of months now," says the source. "Optimistically, the Peppers are trying to lock down a replacement for John, who has apparently quit.
"Mentally, John checked out a long time ago. He's interested in doing his own thing, his own albums – the whole big rock band machinery just doesn't appeal to him anymore."
Whether the Josh Klinghoffer thing becomes a permanent arrangement remains to be seen. Klinghoffer, a friend of John Frusciante, has played with an impressive array of acts including Beck, PJ Harvey and the Butthole Surfers.  He, like Frusciante, has been associated with the "experimental" rock band Ataxia. 
Frusciante has now turned his attention to his continuing solo efforts (he's got 10 solo albums you know).