BEST PRICE GIBSON DUSK TIGER IS £2,345 FROM THOMANN.DE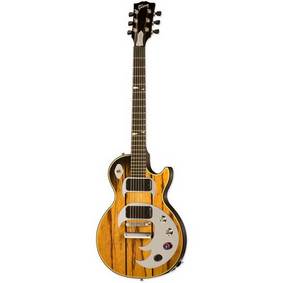 The new robot-axe from Gibson – the Gibson Dusk Tiger is here. This Gibson guitar has a rather "interesting" appearance that has split popular opinion. One MusicRadar.com reader pulled no punches when he or she remarked:
"…it's the most awful looking thing I have ever seen. Looks like a roll of cheap plastic veneer has been applied to a LP Studio. Dreadful."
What do you think? Only 1000 Gibson Dusk Tigers are available worldwide, so you'd better be quick if you're interested in buying one from Gear4Music or from Thomann.de. See the guitar in action courtesy of this helpful YouTube vid from Mi11:
I have to say that I'm impressed with both the looks and the sound of the Dusk Tiger – although the Music Radar reader quoted above makes a reasonable point about it's "veneer", I have to say that I actually quite like it. I mean the classic Les Paul lines are there, the "veneer" is actually quite eye catching, the tiger tooth fretboard markes are a nice touch and the chrome crescent moon pickguard is gorgeous, so thumbs up from me. The tonal possibilities with a guitar like this (and the included software) make it very appealing, assuming the price tag doesn't scare you off (retails for around £2,345 (Thomann.de) to £2,799 (Gear4Music). This new model will hopefully address many of the shortcomings of previous robot guitars such as the Gibson Dark Fire or the Gibson Robot SG (tuning difficulties, fiddly controls, bulky headstock/tuning pegs) and the video reviews I've watched so far are generally positive in this regard.
I'll have to rely on the opinion of others since sadly, my budget won't stretch that far. Unfortunately the friendly staff in my local music shop also know this so will take some convincing to let me have a go.
Check it out at Gear4Music or at Thomann.de now


Related articles by Zemanta