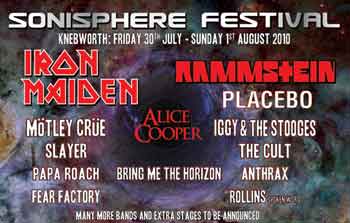 So Rammstein have just finished the UK leg of their current European tour in support of their new and, might I say particularly awesome album Liebe Ist Für Alle Da
(see Amazon player to sample the tracks(below)). The reviews for the show were incredible (see the Times Online review here) as I'm sure I said before, if you've never seen a Rammstein gig, make sure you add them to your list of bands to see before you die. Unfortunately all dates were in England-shire so I didn't get to see them this time but if you were also unlucky enough not to have seen them, you get another chance at this year's UK Sonisphere Festival at Knebworth Park (30 July to 1 August 2010) – Sonisphere tickets are on sale now. For anyone who is yet to experience Rammstein, check out the video for the latest single Ich Tu Dir Weh (released on 15 February 2010) on Sonisphere TV below – the video is basically a WYSIWYG for their live show. Brilliant!
We're really spoiled for choice again this year with Iron Maiden playing their only UK 2010 date at Sonisphere, along with the likes of Motley Crue, Slayer, Placebo, the Cult, Anthrax and the critically acclaimed Rollins Spoken Word (you've got to see this guy! – Henry Rollins YouTube video here.). He played the O2 Academy in Glasgow recently to some excellent reviews in the press. Anyway, I'm working on a festivals section for Guitar Savvy and will hopefully post some articles and news about the forthcoming crop of summer festivals, beginning with Download (Donington) 2010 and Sonisphere (Knebworth) and the acts still to be confirmed.