Well the new Gibson Jimi Hendrix Signature strat guitar has been unveiled and it looks pretty good although the inverted headstock looks decidedly odd on a right handed guitar (I know, I know… that's the point so it's just me). Oh, and the other decidedly odd thing is that it's a Gibson "strat" (although this was reported previously).  These guitars have been engineered to help players achieve the Hendrix sound (if not the Hendrix guitar skills).  "Why isn't it a Fender Strat" I hear you ask?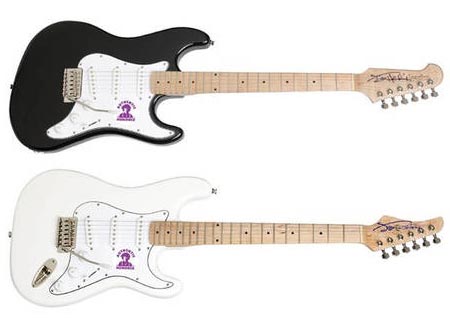 According to MusicRadar, the guitar will come in three packages:
The Jimi Hendrix "Experience" Electric Guitar Package
This package includes additional hardware: a Jimi Hendrix Signature "Voodoo Child" amplifier, Foxey Fuzz pedal, an electronic tuner, two guitar cables, a Hendrix-inspired guitar strap, three guitar picks and a USB drive containing exclusive Hendrix media content not to mention a deluxe gig bag and an instructional DVD!  Buyers will also get a Hendrix inspired tie-dyed t-shirt and bandana.  The price is expected to be in the region of $499 (US).
The Jimi Hendrix "Signature" Guitar Package
Accessories are as per the "Experience" package (amp, strap, gig-bag, tuner, guitar picks) except without the Foxey Fuzz Pedal and with only one guitar lead. The tee and the bandana are also absent from this package which is expected to retail for $329.99 (US)
The Jimi Hendrix "Little Wing" Electric Guitar Package
This package consists of the new 10-watt "Max Feedback" amplifier, an instructional DVD a deluxe padded gig bag, guitar cable, a nylon strap with the Authentic Hendrix logo and three Authentic Hendrix guitar picks. This package is expected to retail for around $249.99 (US)
So having read loads of posts surrounding the press releases and news articles for the signature Jimi Hendrix Gibson strat, opinions are definitely divided on this range of new electric guitars.   Many fans are actually angered by Gibson making a strat copy and are very critical of Janie Hendrix's handling of the whole process of this guitar's release from conception, design, engineering, manufacturing to the release of the final product).  I'm going to sit on the fence for now until I've actually heard the guitar played – I'm not really familiar with the politics surrounding the legacy of Jimi Hendrix and the running of Authentic Hendrix LLC so I will only say this: Jimi Hendrix remains arguably the most influential guitarist of modern days and it would be a great shame if any guitar released in his name was anything short of spectacular.
Sorry for the poor quality vid -sounds great though.

Learn to Play Jimi Hendrix DVD (Lick Library)