The Laney GHH50L guitar amp head is a very versatile bit of gear and with users like Kiko Loureiro (Angra), Mikael Akerfeldt (Opeth), Mattias Eklundh (Freak Kitchen) and Paul Gilbert you can see that it offers hugely talented people the tone and drive that they require from an amp.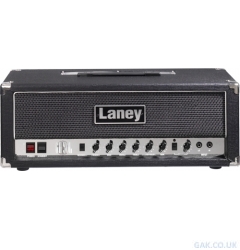 The bit that surprises me about the GH50, is it's price. As I type It's going for £491 on the guitarguitar web site, that's a great price for a great sounding valve amp.
Now on to how it actually sounds. The tone from the amp is very bright, I got a big surprise when I plugged in my Ibaenz PGM which has a bright sounding basswood body and could not believe the treble that was coming out of this thing and quickly reached for the treble and bass knobs and rearranged them accordingly. After sitting with it for a while I managed to get a tone I liked, though I was now limited to any further tweaking… enter my friend who has a Les Paul with it's mahogany body (strong mids, good bass) and WHOA, what a sound! it really chewed up those highs and spewed out monstrous bass providing hours of happy chugging..er, you know 😉
So this was all great but something was missing, I missed the highs and mids, there must be some middle ground, enter, the alder bodied Yamaha Pacifica 821 that I've had since early 1990's. This was the middle ground that I was looking for, simply a great all-rounder, I can see why all those Fender strats over the years have been made out of it and must be one of the most popular woods today, it just gave the amp the scope to provide you with so many tones out of the one setting, SORTED!
This Amp also cleans up very well when you roll the volume knob back, it gives a really good SPANK to your sound and gives a more bluesy tone when your rolling off the full on drive the amp can give you.
So if you're looking for an amp that's got a lot to give and won't have you re-mortgaging then give the Laney GH50L a try.
Steve