If you're after your first electric axe, you could do a lot worse than to consider one of these beauties.  All guitars shown here retail for under 300 pounds making them affordable too. The thing to remember about buying a guitar is that almost without exception, you get what you pay for.  £200-£300 is a realistic price point for a decent entry level electric guitar. So check these out: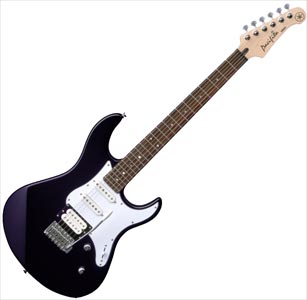 The Yamaha Pacifica 112
The Yamaha Pacifica 112V is probably the best value entry level electric guitar you can get. This guitar looks good, sounds good and is great value for money at about 200 pounds. As you can see, it looks rather Strat-like which is no bad thing (more like the Fat-Strat given that the Yamaha Pacifica 112V comes with 2 single-coil pickups and one humbucker bridge pickup). With great tone for blues and rock guitar, the Yamaha Pacifica is well worth thinking about for a first electric guitar. It is available in a wide range of colours from:
Musicroom.co.uk,
Gear 4 Music and Thomann Musikhaus.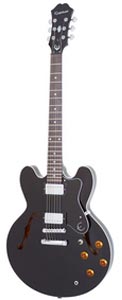 The Epiphone ES-335 Dot
This hollow-body semi-acoustic electric guitar represents incredible value for a budget electric guitars. Not only does it look great, but you're getting an axe that has probably the finest tone you could hope from a guitar 3 times the price. If you opt for the Epiphone ES-335 Dot, you won't be disappointed. You'll get less change from your 300 pictures of the Queen but you're getting a lot of axe for your cash.
Available from Thomann and Gear 4 Music.

Squier Telecaster Classic Vibe
The Squier Telecaster Classic Vibe is based on the 1950s vintage Telecaster and looks amazing. This budget version offers an axe of impressive quality and sound, not to mention the history of the Telecaster, used by the likes of Keith Richards (Rolling Stones) and Andy Summers (The Police), the Telecaster is suited to a broad range of guitar styles.
Available from Music Room
Thomann Musikhaus and Gear 4 Music.
Ibanez RG321
The Ibanez RGB321 is a classy entry level electric guitar. Some people have reported Ibanez guitars around the entry level as a bit hit and miss (their top end guitars are incredible). If ever you needed proof that Ibanez can produce a great entry level electric guitar then look no further than the Ibanez RG321 – it's sleek lines and evil looking pointy double cutaways are more than just good looking – this guitar can hit the notes you need with some of the finest tone around for those on a budget. This axe is fitted with 2 Ibanez humbuckers.
Available from Gear 4 Music, Thomann Musikhaus and MusicRoom.co.uk
If you want a decent guitar you're going to have to fork out for it. You could pay less but you'll wind up with a guitar you will probably hate playing because it tries to hurt you (ridiculously high action will hurt your fingertips or worse, give you R.S.I. (repetitive strain injury)) or tries to drive you mad because it won't stay tuned or will break your strings regularly. Cheap-ass guitars really are false economy.  If you have any of these guitars, please let us know what you think.
Good luck.