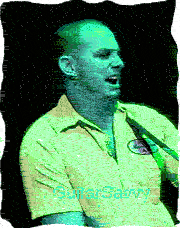 Then head over to  Music Radar (link at the bottom of this post) where the Alter Bridge guitar hero (and soon to be one of our influential guitarists) himself will tell you about his approach to fingerstyle playing in this free guitar lesson.  Now Mark isn't playing what we could call traditional fingerstyle as he uses just his thumb and index finger but it clearly works for him.   Anyone familiar with Mark's playing in Alter Bridge and Creed will recognise his unique sound in the original piece of music featured in the lesson.  And if you're like us, then you'll really get a kick out of learning this. Tremonti plays PRS guitars and has his own signature model.
The lesson consists of a video and the accompanying guitar tab – head over to Music Radar to check it out.  Hope it's useful to you.
Here's a clip of Mark and the Alter Bridge lads playing the excellent Ties That Bind live at the O2 Academy (or the Carling Academy as it was then known) in Glasgow in January 2008.  I was at this gig!