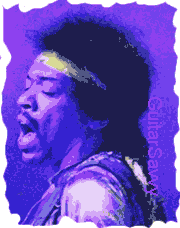 Today is the anniversary of the death of the inspirational guitarist Jimi Hendrix.  And the day was marked by the announcement from Gibson Guitars that there will be a new Gibson Jimi Hendrix Signature Guitar.  This soon to be unveiled Gibson signature model has been designed by Authentic Hendrix and Gibson.  Janie Hendrix, sister of Jimi Hendrix and president/CEO of Authentic Hendrix, spoke at Gibson News about how the new guitar would reflect the passion and stage presence of the guitarist and would thus be "very colorful".   This guitar will be unveiled soon – GS will publish an updated post so you  have a good look for yourself.   Jimi's famous style of taking right handed guitars and inverting them (which can affect their tone due to the different way in which the pickups and strings interact apparently) gives the unique sound we now associate with Jimi Hendrix and his work with the Jimi Hendrix Experience (not to mention the man's sheer dedication and talent for playing guitar.
Janie Hendrix also goes on to discuss the dizzying amount of the recorded but unreleased music material of Jimi is likely to be released over the next decade or so.  There is so much material that Hendrix music releases could occur as frequently as every 12 to 18 months for 10 years or more. 
Keep checking back for updates on the latest Gibson Jimi Hendrix Signature guitar model.
Source: Gibson Lifestyle News