Name:     Slash (real name: Saul Hudson)
Born:       23rd July, 1965 (London, UK)
Raised: Stoke-On-Trent (until 11 years old), Los Angeles
Bands:
Road Crew
Guns N' Roses
Slash's Snakepit
Slash's Blues Ball
Velvet Revolver
Style: Rock/blues
Defining Moment:  That Sweet Child o Mine guitar intro on the incredible Appetite for Destruction album  or the November Rain solo (from Use Your Illusion I).
Weapon(s) of Choice:  Reputed to have more than 100 guitars (electric guitars and the odd acoustic guitar), Slash favours Gibson Les Pauls (particularly the Les Paul standard and a '56 Gold Top model), Guild custom Double Neck, Seymore Duncan pickups, Ernie Ball strings and Marshall Amps.  Slash has a number of custom deals including Gibson/Epiphone guitars and Marshall Amps.
Trivia: Former BMX riding champ… was going to turn professional before finding guitar.  No stranger to the rock n roll lifestyle, Slash was grew up in an environment where the likes of Ronnie Wood, Joni Mitchell, Iggy Pop and David Bowie were visitors to his house!  According to Slash, the guitar has been the best way for him to express himself both emotionally and artistically.  Anyone who gets into guitar playing knows exactly what he means.  Slash has written an autobiography (Slash: The Autobiography available in paperback or hardback) that's a highly entertaining read… highly recommended. Slash is currently working on a 15 track solo album, together with different singers from the likes of Ozzy Osbourne, Iggy Pop, Fergie (Black Eyed Peas) & Cypress Hill, Myles Kennedy (Alter Bridge) and many more.

Check out a couple of the tracks below:
.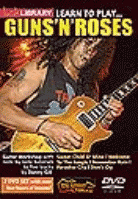 Learn to play like Slash in Guns N Roses at Lick Library.  Video guitar lessons include Sweet Child o Mine guitar, arguably one of the finest and most famous guitar riffs ever written.