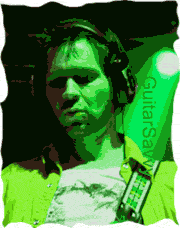 Name:    Paul Brandon Gilbert
Born:      November 6th 1966 (Carbondale, Illinois, USA)
Career:
G3 (with John Petrucci and Joe Satriani – 2007)
Mr Big (1988-1997, re-union tour in 2009)
Racer X (-1988)
Style:     Rock/shred/heavy metal/classical metal
Weapon(s) of Choice: Similar to Satriani and Steve Vai, Paul Gilbert uses mostly Ibanez guitars and his his own signature model range of Ibanez guitars (PGM-FRM1, PGM300RE-WH, PGM401 and PGM100RE). PG uses Marshall Amps (Vintage Modern) although previously used Laney amps.  Numerous effects pedals include Boss Digital Delay, Ibanez Airplane Flanger and many more (there's a Wikipedia article that goes into more detail if you need it).
Trivia:  Had a section called Paul Gilbert's School of Shred in UK's Total Guitar Magazine where Gilbert taught us the ins and outs of shred guitar (he has recently (Summer 2009) begun writing for Total Guitar Magazine again – back by popular demand).  PG is named as one of the top 50 fastest guitar players and top 10 shredders in the world by Guitar One magazine.  One of his former students is Buckethead (a fellow top 50 fastest guitarist) who went on to enjoy a 4 year stint as guitarist with Guns N' Roses during the Chinese Democracy marathon between 2000 and 2004.