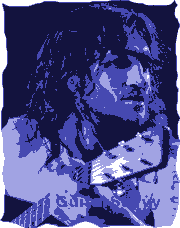 Name: John Anthony Frusciante
Born: 5 March 1970 (Queens, New York, USA)
Career:
The Red Hot Chili Peppers
Ataxia
The Mars Volta
solo projects
Style: Funk, Rock, Blues
Weapon(s) of Choice: 1962 Fender Stratocaster (sunburst), Fender Jaguar, Gretsch White Falcon. Frusciante has over time flirted with Mesa Boogie and Marshall (Silver Jubilee)  amps with Fender (Showman) and Marshall (Silver Jubilee) heads.  Makes extensive use of guitar effects pedals with a rather impressive setup – JF clearly likes to experiment with his guitar sound.
Trivia: JF has had quite a colourful past – with a well documented history of drug use from marijuana to heroin.  Has released 10 solo albums since 1994, the latest (The Empyrean) was released in early 2009. RHCP are on a break for an undisclosed length of time.  Has collaborated on his solo projects with the likes of RHCP bass player Flea, former Smiths guitarist and future Guitar Savvy Influential Guitarist Johnny Marr.  JF's influences range from Jimi Hendrix to Joe Strummer with the likes of Led Zeppelin, the Smiths and bluesmen Robert Johnson and Leadbelly (Huddie William Ledbetter).
Defining Moment: Under the Bridge