Name: Carlos Augusto Santana Alves (Santana. not to be confused with Setanta)
Born: July 20th 1947, Jalisco, Mexico
Raised: Mexico and California, USA (San Francisco)
Bands:
Santana Blues Band (1966) – known simply as "Santana"
As a solo artist
Style: Rock – latin and blues
Weapon(s) of Choice: Commonly associated with Gibson guitars, most notably several Gibson SG models has more recently released signature guitars and pickups with PRS (Paul Reed Smith), notably the PRS Santana SG guitar.  He has also been known to use Yamaha guitars.  The PRS Santana MD model was released early 2008.  Humbucker type pickups are most often used.  Santana also plays an Alvarez classical guitar.  Amps used are usually Mesa Boogie  models (cabinets and heads).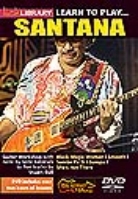 Learn to Play Santana DVD at Lick Library