Name:    William F Gibbons (AKA Billy Gibbons or the Reverend Willie G)
Born:     16th December 1949 (Houston, Texas, USA)
Career:
ZZ Top
Moving Sidewalks
Revolting C**ks
Weapon(s) of Choice: Often associated with Gibson Les Pauls (various models including Goldtop) – has a new Gibson Signature Les Paul called the '59 Gibson Les Paul Standard Pearly Gates – a truly beautiful guitar but not cheap… advertised on Gibson webpage for $15,294 at the time of writing.  Also associated with Gretsch guitars as well as Fenders including Stratocaster and Telecaster models.  Amps used include Fender, Marshall and Vox.   
Style: Rock and blues-rock
Trivia:  Has had many collaborations including Queens of the Stone Age, Hank Williams, Kid Rock and Sammy Hagar(former frontman with Van Halen).  Was allegedly offered 1 million dollars by the Gillette Company  to shave off his beard for a Gillette TV commercial, which he DECLINED saying he was "too damned ugly without it".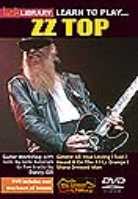 Learn to Play ZZ Top DVD from Lick Library
Have Mercy – It's the Reverend Billy Gibbons.